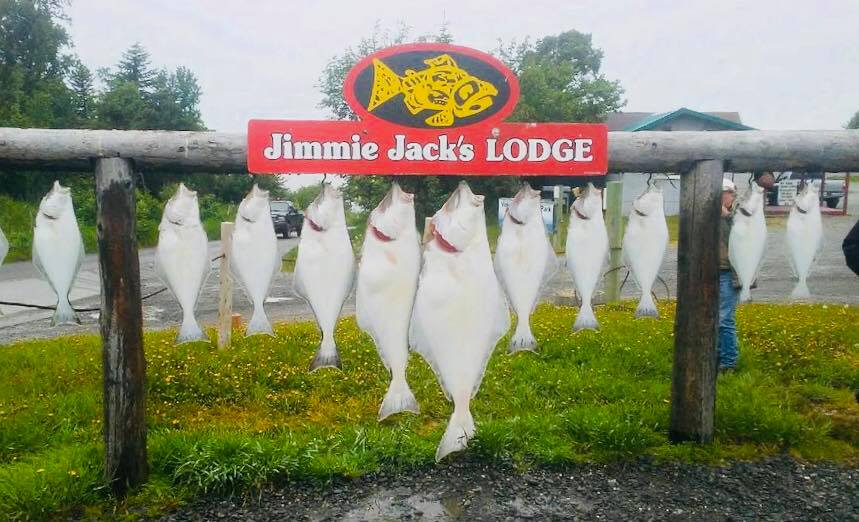 As the boat bobs up and down, the saltwater mist hanging heavy in the air, you set out on an adventure. You zip up your coat just a little more to keep the chilly breeze at bay and situate your sunglasses as the sun slowly makes its way into the early morning sky. Your Captain announces that you have arrived and lines are ready to cast. It is the best time for halibut fishing in Alaska, and you are ready to wrangle in the biggest catch yet with Jimmie Jack's Fishing Lodge!
Reeling In A Halibut
Some of the largest fish we have ever reeled in here at Jimmie Jack's are Ninilchik Halibut. These large, flat fish are massive and a true challenge to bring in. We have one of the fastest boats in the business to get you out to these monster fish, along with gear that is built to withstand the fight for these giants. Though halibut are large, do not let them discourage you from trying your hand at casting in a line for them. Our seasoned Captains are experts in the art of finding these massive fish and will be able to give you the best tips and tricks to get your limit.
Finding The Best
Our fleet is made up of not only the best boat and electronic fishing technology, but we have extraordinary Captains to guide you along the way. The boat that we take out comfortably accommodates up to six anglers with plenty of elbow room to fight big fish with ease. Captain Charlie will navigate through the waters to get you to the most opportune spots to drop your lines and make sure your trip is unforgettable!
The Jimmie Jack's Experience
Though we love our salmon fishing, the best time for halibut fishing in Alaska is here, and we could not be more excited! Get up to Jimmie Jack's Fishing Lodge for premier halibut fishing and experience the best of Alaska fishing charters. The lodges are waiting for your crew, and our captains and guides are eager to get you out on the water. What are you waiting for? The halibut await!