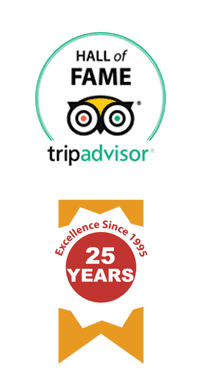 When to Fish Alaska?
Our freshwater guides and saltwater skippers choose from over a dozen different salmon runs and resident fisheries during the course of the season. What this means for you is an opportunity to fish for salmon, halibut and trout from late May through September.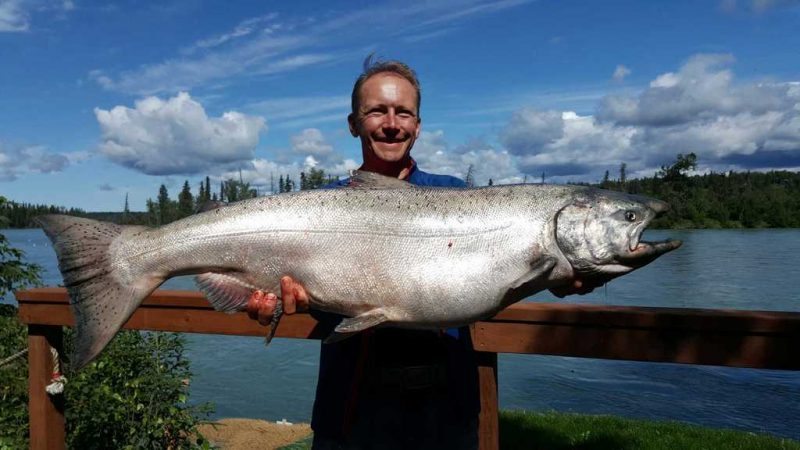 KENAI RIVER

Trophy King Salmon Fishing
MAY-JUNE

Early Run

The first run of king salmon appear in catchable numbers in early May when the river is low and very clear. The size of this run is smaller than the second run but with fewer anglers & boats participating in this fishery the experience can be much more pleasant with less competition on the water. The low level of the river during this period tends to concentrate the fish in a few deep holes in the area, and each tide will bring another group of fish into the river.
JULY

Late Run

Because this second run of Kenai kings occurs in the middle of summer, it is the most popular with anglers. Although there are two to three times more fish in this run than the early run there are also more anglers & boats so fishing pressure increases. This fishery allows the use of bait beginning July 1 (and sometimes earlier) so we use a variety of techniques and tackle to catch these monsters. Artificial lures, laced with sardine or salmon roe, back-trolled, back-bounced, or drifted are the methods our Kenai guides use. This run actually begins to arrive during the last week of June and continues stong right to the end of July when the king season closes. Numbers of kings can amount to several thousand per day during the peak of the run in mid-July.
KENAI RIVER

Silver Salmon Fishing

AUGUST – SEPTEMBER Fishery
Coho or silver salmon are the favorite fish of many anglers. They are hefty fish, with some exceeding 20 pounds. They are also very hard fighters on light and medium tackle and best of all, they are aggressive and readily strike lures and take baited hooks. Their arrival and presence in the river throughout the months of August and September make them the perfect fish to complement late season rainbow trout and dolly varden. Late summer and fall is also the time when things begin to quiet down on the Kenai as fewer tourists are here so these power boat trips are quite enjoyable. We use lures and bait fished from boats anchored in the local hot spots and focus on newly arriving fish fresh from saltwater.
KASILOF RIVER

King Salmon Fishing

MAY-JUNE Fishery
Located just 12 miles down the road from Soldotna is the glacier-fed Kasilof River which continues from Tustumena Lake to Cook Inlet. This river has a remarkable king salmon run that has become a favorite of many of our clients. Due to the shallow, rocky nature of this river our guides take you by drift boat. It is a peaceful adventure down a pristine river filled with lots of fishing action.

This king salmon run begins at the same time as the early king run on the Kenai River. From mid-May through June anglers are most successful fishing from our guided drift boats. Bait is also allowed in this fishery. Multiple hook-ups are frequent. Kids really enjoy it because most days see enough action to keep them thoroughly focused on catching fish. This is a great experience on Mondays when the Kenai River is closed to guided anglers.
KENAI RIVER

Sockeye Salmon Fishing

Mid JUNE – JULY – early AUGUST Fishery
Sockeye or "reds" as they are locally known, are considered Alaska's best-tasting salmon and are nearly everyone's "meat & potatoes" when it comes to stocking up for the winter or filling a fish box to take home. The season begins in mid-June when the first run of Russian River reds begins in the mainstem of the upper Kenai River where they are easy to target. As the first run winds down, the next run of sockeye hit the Kenai River in mid-July. This run is huge with 600,000-1,000,000 reds entering the river during a four week period. Thousands of Alaskans and visiting anglers come here specifically to catch this one run of fish. They are incredible fighters on a flyrod or medium spin gear and will amaze you with their drag-burning runs and multiple jumps and somersaults during the fight. Bag limits for the mainstem of the Kenai are three reds per day and at an average of 8 pounds each it doesn't take long to fill your fish box.
KENAI RIVER

Trophy Rainbow Trout

Mid JUNE thru SEPTEMBER Fishery
Although the Kenai River is world-famous for its king salmon fishing, there are a great many anglers throughout the world who are also aware of the trophy class rainbow trout and Dolly Varden (char) fisheries it supports. The upper Kenai opens June 11 above Skilak Lake and has a remarkable catch and release trout fishery where in-river numbers have been estimated by the US Fish & Wildlife Service to reach as many as 2000 rainbows per mile; some exceeding 20 pounds. The lower Kenai River (below Skilak Lake) is also a magnificent trout and char fishery.

The fishing here is good all summer but as salmon begin to spawn in this area in late August the action picks up to a heated pace as big rainbows and dollies move in to feed on the abundant loose salmon eggs. We fish both drift boats and power boats in the middle section of the river depending on time of year and access. A great many of our clients enjoy fly fishing for rainbows and dollies but for those who prefer spin gear, that method can be just as effective and rewarding.
COOK INLET

Halibut Fishing

MAY thru SEPTEMBER Fishery
One of the staples of Jimmie Jack's fishing adventures is Alaska halibut fishing. With fish ranging from 10 pounds to over 400, you never know exactly what you may have on the line at the next bite. The skippers you fish with operate from the beaches along Deep Creek near the community of Ninilchik or out of the Homer area further south. Much will depend on weather conditions or the time of the season and whether combination trips are available. During May and part of June many of the Ninilchik area captains offer our guests combo trips…..a chance to troll for near-shore migrating king salmon during part of the trip and then switch to halibut fishing for the remainder of the day. Anglers have a chance to catch kings headed for local streams in that area or possibly tie into one of the bigger Kenai kings that are passing through. It's an all-day adventure with plenty of rod-bending action and plenty of delicious halibut fillets to take back home at the end of the trip. The most enjoyable and most productive halibut fishing is during the two weeks each month when the tides are the smallest. The current year tide table is provided in our planning information so you will know when the best periods are, as well as when the best clam digging periods occur.
SEWARD COMBO TRIP:

Possible Species include Salmon, Lingcod, Rockfish, and Halibut

JUNE, JULY and AUGUST

Full Day Multi-Species Seward Fishing Trips leaves at 7:00am and return at 3:00pm. You will experience a fully guided and outfitted "Multi-Species" fishing trip out of Seward, Alaska. Jimmie Jack's Captain will put you on halibut and rockfish in June, and silver salmon, lingcod and rockfish in July and August. This is fishing paradise! Boat limits are common. The bag limits are for this charter are: 3 Silver Salmon, 1 Lingcod, 2 halibut and 4 Rockfish. This Multi-Species Trip is a popular among locals. Considered one of the best Seward fishing charters offered in Alaska! This charter departs out of Seward, Alaska, just 2 hours from Kenai. This is a full day trip, so be prepared, for arm pumpin' excitement as you pull up fish after fish. Many days see full limits, and ACTION! While on your fishing trip you will see the spectacular scenery and wildlife of Resurrection Bay and Kenai Fjords National Park. Bring your camera for shots of glaciers, whales, puffins, bald eagles, sea otters, and more.
FLY-In

Salmon Fishing

Alaska's Premier Fishing Experience
Flying into remote areas of Alaska for fishing and wildlife viewing has no equal. Enjoying the unspoiled wilderness, exceptional fishing far from the beaten path, and the magnificent scenery that surrounds you on this type of adventure will provide lifelong memories. With literally thousands of square miles reachable by floatplane for fishing excursions, the flyout angler has the opportunity to enjoy what even many Alaskans have not yet experienced. One of our most popular flyouts is on the west side of Cook Inlet where you can fish for sockeye salmon while enjoying the company of several brown bears intent on catching their next meal alongside you! This trip begins around the second week of June and continues to the end of July. Another of our popular choices is flying to a remote river to fish for fresh silver salmon entering from the Inlet. This activity begins in the latter half of July and runs through August or later.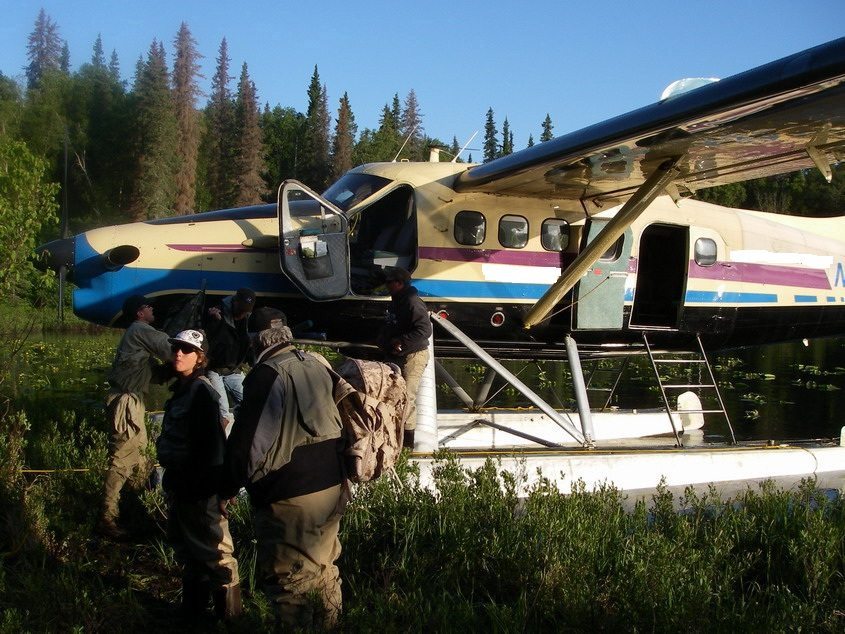 What fish do you want to target?
What Our Guests
Have To Say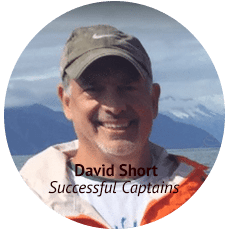 "Professional, friendly and successful captains!"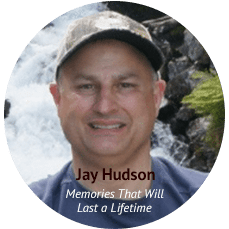 "I'm glad we chose Jimmie Jack Fishing. The guides and staff made this an unforgettable experience and gave my son and I memories that will last a lifetime."
"The 3 times we have been at JJF, Jimmie Jack has provided outstanding service, quality fishing, and made us feel more like a friend than a client."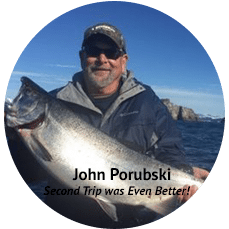 "I did not expect this year's trip to be as good as last year's trip. Last year was great. Boy, was I wrong! It was even better!"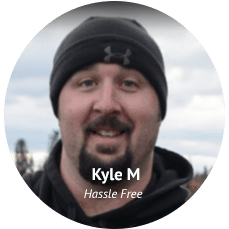 "It was completely hassle free, and we had a fantastic time."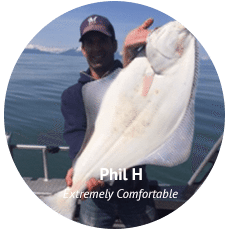 "We came hungry and left with big fish. Boat was big and extremely comfortable ~ lots of room outside but also a great indoor area with protection from the elements."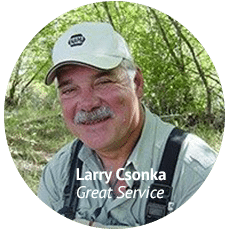 "Spectacular views, great service and gourmet meals all exceeded our expectations!"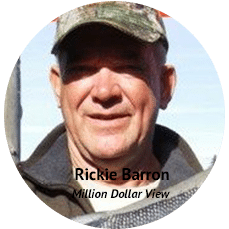 "Excellent Lodge with a million-dollar view. If you are going to fish the Kenai stay at Jimmie Jack's Lodge. Best fishing vacation of my life!"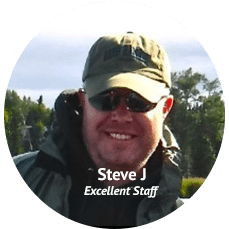 "The entire experience was great! Well organized fishing trips and fish packaging arrangements. Clean lodge and boats. Excellent staff!"